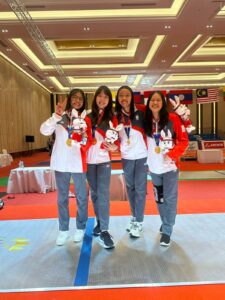 The Singaporean contingent performed exceptionally at the 2023 SEA Games in Cambodia, at the Chroy Changvar International Convention and Exhibition Center, setting a record for the country with a haul of seven gold medals in fencing. Blade Club athletes represented Singapore at the Games and helped Singapore win many of the medals in the haul, including 4 of the 7 Golds. The representatives from Blade Club were:
Elle Koh (Women's Epee) – Individual Gold, Team Gold
Kiria Tikanah (Women's Epee) – Individual Bronze, Team Gold
Maxine Wong (Women's Foil) – Individual Gold, Team Gold
Jorelle See (Men's Sabre) – Team Silver
Nicholas Loo (Men's Sabre) – Team Silver
Jean Koh (Women's Sabre) – Team Bronze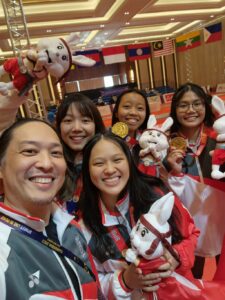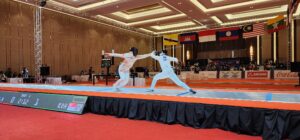 15-year-old Elle Koh retained her gold medal in the women's individual epee event, overcoming compatriot and Olympian Kiria Tikanah Abdul Rahman in a close match 13-12. Elle Koh first won this event at the previous SEA Games when she was just 14 years old, making her one of the youngest ever athletes to represent Singapore at the SEA Games. The women's epee team, consisting of Elle Koh, Kiria Tikanah, Filzah Hidayah, and Rebecca Ong, also retained their team crown by defeating a tenacious team from Philippines 45-37. (https://www.channelnewsasia.com/sport/sea-games-fencing-womens-epee-team-wins-gold-3491671)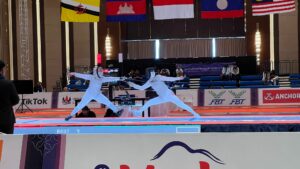 Maxine Wong displayed a stellar performance in the 2023 SEA Games in the Women's Foil Individual and Team events. She clinched the gold medal in the Women's Foil Individual event and, along with her teammates Cheung Kemei, Tay Yu Ling, and Tiffany Seet, also secured a victory in the Women's Foil Team event. It's noteworthy that Maxine has been part of the last three title-winning women's foil teams for Singapore​. (https://tnp.straitstimes.com/sports/team-singapore/sea-games-spore-fencers-retain-womens-foil-team-gold-six-titles-now-cambodia)
In the Men's Sabre Team event,  Nicholas Loo and Jorelle See along with their teammates Dan Wei Zhuo and Lucius Loh, secured a silver medal, a culmination of an impressive performance​ as a team.
The Women's Sabre team comprising Jean Koh, Nicole Wee, Juliet Heng, and Jessica Ong won bronze in the Women's Team Sabre event. They lost to defending champions Vietnam 42-45 in the semifinal.