Our athletes faced the top fencers in Asia recently in Seoul, Korea, and came away with some excellent results and much valuable experience.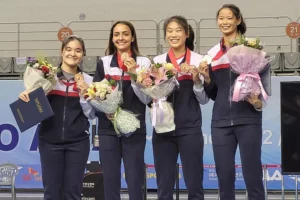 The best result came from the Women's Foil Team, which includes Maxine Wong and Denyse Chan, two of Singapore's top Women's Foilists. The Team defeated Hong Kong in the Top 8 to assure themselves of a Bronze.
https://www.straitstimes.com/sport/fencing-singapore-womens-foil-team-clinch-joint-bronze-at-asian-championships
In the individual events, Team Singapore won no medals, but Blade Club fencer Elle Koh created a stir when she won all in her poules, posting an excellent first roung that saw her get seeded 2nd in the knockout stage of the competition. In the process, she defeated the current World Number 1, Choi Injeong of South Korea, 5-2. In the knockout stage, she eventually fell to Choi in a rematch to 15 points.
At the competition, Blade Club was represented by:
Maxine Wong and Denyse Chan for Women's Foil
Kiria Tikanah and Elle Koh for Women's Epee
Elliot Han for Men's Epee
Full results can be found here: https://engarde-service.com/siteTemplate.php?lang=en&Organisme=koreanfencingfederation&Event=2022seoulafc&page=competitions.php